Sunday was David's birthday. That day we also officially celebrated Joe's and Ameera's birthdays. Joe, David, and I met up with my parents and Ethan, Jessica, and James at the Planetarium. We walked around for a while, looking at the exhibits and playing with James. Then, we headed over to Z Tejas, the restaurant we go to every year for David/Joe birthday dinner. We had some really tasty food and then headed to E and J's for birthday cake!
My mom and I had gone to Granite Bakery (where we got our wedding cake) and picked out a fun Halloween theme cake. We picked spice cake with apple filling and a caramel buttercream frosting. It was so yummy!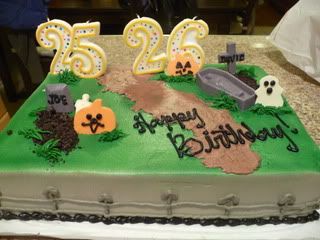 The cake! (All the decorations on the top were made of chocolate)
Tonight, for date night, Joe and I went to something new. We went to Red Butte Garden's Garden after dark. It was cold, but we bundled up and got a caramel apple before heading up the garden path. It was really pretty and there were some fun activities. One of my favorite things that we did was floating lamps: we decorated special papers and rolled them up to make lanterns. Then we taped our lanterns onto paper plates and put tea lights inside. They lit the candles and then we floated our lanterns on the water. It was so pretty to see dozens of lanterns floating on the water.
We didn't bring our camera, but here are some pictures of things we made. (I am such a kid. I love little crafty things like these!)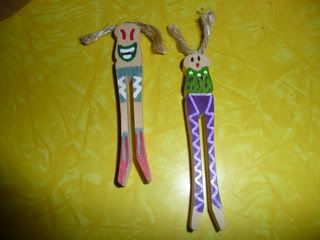 Australian Faeries
Roman potion bottles filled with lavender and allspice
Our painted pumpkin, a grey kitty of course!