It's fall break at the U right now. We couldn't really go anywhere because of Joe's work and school obligations, but we wanted to do something fun. It had to be really short so we decided we'd do a "staycation" and stay in a fun hotel for one night. We looked at several in Park City and some in Salt Lake. Our very favorite hotel (where we stayed after the wedding) was having a sun-wed special so we decided to take a mid-week break and booked Wednesday night in the Edinburgh room at Castle Creek Inn.
Wednesday afternoon, we hopped in the car, stopped for a bottle of wine, and headed to the castle. At check inn, they asked if we wanted a room upgrade. Um, Yes! We were upgraded to Romeo and Juliet, one of the inn's nicest rooms. We even got our own balcony. :)
We got Chinese take out and ate dinner outside. After dinner, we turned on the fireplace and watched movies. One of the best things about Castle Creek Inn is the steady supply of freshly baked cookies, popcorn, and soda. I gave my diet the night off.
This morning, we went to the dining room for breakfast. The first course was lemon poppyseed bread and grapefruit. The second course was cinnamon waffles, cheddar hashbrowns, and sausage. With coffee, tea, and orange juice. It was so yummy!
Our room! Picture is a little dark
Bed and balcony doors
Set up for dinner
Back door of the castle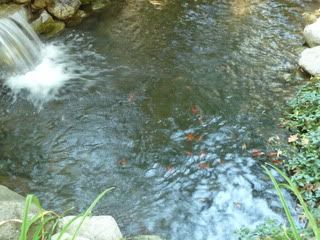 In the garden. This pond had fish in it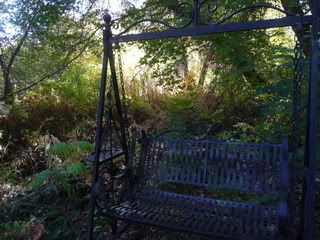 More garden
A frog