On Tuesday, Joe and I continued our tradition of "mini Thanksgiving." I cooked a turkey breast and we had stuffing stuffed squash, mashed potatoes and gravy, asparagus, rolls, and wine. I have to brag just a little bit. I make a damn good turkey and my gravy was perfect this year. I really like feeling confidant enough to make an entire Thanksgiving dinner. We used our wedding china and wine glasses for the first time. :)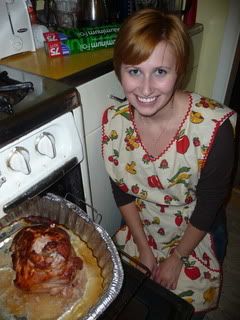 Me with my turkey!
Thursday, we headed over to my mom's house. We made pumpkin dip for an appetizer. Shortly after we arrived, the turkey popped and my mom got busy finishing everything else. Ethan, Jessica, and James came over and also Jessica's dad. We sat down for a very traditional and delicious dinner. We missed Joe's family this year. They are all in New York. I brought my camera to the table to take pictures of the food, but I was too busy eating to get any!
Waiting for dinner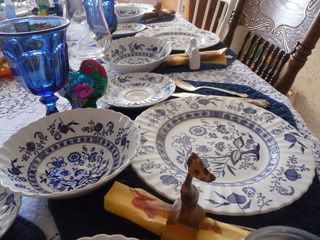 James enjoying his dinner
On to Black Friday. I have never gone shopping on Black Friday. I decided to look at the ads at my mom's house just for fun. There weren't really any great deals I was interested in until I got to Wal-Mart. They had a great deal on a sewing machine starting at 12:01. I talked Joe into taking me and we got to Wal-Mart around 11:30. Everyone was nice and I found the sewing machine pile and waited until midnight and grabbed one! It was actually kind of fun. Then we stopped at Old Navy because they had jeans for $15. I got a gift card for my birthday and had a birthday coupon so I ended up with: Long jeans, 2 long sleeved shirts for me, one long sleeved shirt for Joe, pajama pants for me, pajama pants for my mom, and a piggy bank...for $1.48. It was awesome!