O.k. so after having a cold/flu of death, a kidney infection, and starting a new school semester, I am finally ready to continue the New York blog entries. This one focuses on New Year's Eve, which we spent in the city.
At first, we were thinking about going to Times Square, but after some research, we decided that didn't actually sound very fun. So I looked online at restaurants having New Year's Eve specials and we decided on an Italian place, Pappardella. We made the reservation for 6- us, Joe's brother Zach and his fiance Amy, and Joe's best friend Dave and his friend Julie.
We got all dressed up and made our way to the city. It was actually quite easy getting to the city that night and it was fun. Everyone on the trains/subway was dressed up and excited for various parties, events.
We ended up getting to the restaurant an hour early. I sent Joe in to check on the reservation, which turned out to be a good thing because for some reason, they didn't have it. Luckily, the manager helped us out and all was well.
Dinner was amazing. I got the 5 course dinner special they were offering for the holiday and everything was fantastic.
All dressed up
The restaurant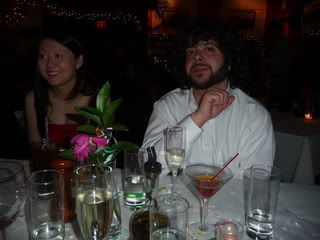 Dave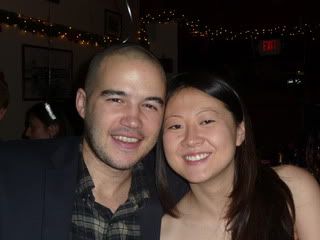 Zach and Amy
Us
At dinner, Zach and Amy surprised us with a fantastic Christmas present: a night in the Soho Grand hotel. It was so much fun to stay at a hotel in the city!
Our room
The neat wallpaper in the bathroom