We're pretty busy here getting ready to go to New York, but I wanted to post a quick Christmas entry.
Joe and I woke up early (6 am!) on Christmas morning. We let the kids have their stockings and opened our stockings from each other. Then we opened presents. Joe got me "footy" pajamas, a diamondy Christmas tree necklace and a stuffed cow. I got him a Build a Bear baseball, a Mets tie, and an MP3 player.
After, we headed over to my mom's house. David, Ethan, Jessica, and James were all there too. We always do stockings first and they are always loaded! Presents were wonderful too. I got the TOMS shoes I wanted, a pair of tanzanite earrings (total surprise) some great books, and more! Joe got the car bra he wanted, along with a video game, a gift certificate for some boots, and a sweater.
We went to Ethan and Jessica's house for brunch so the baby could nap and spent the afternoon relaxing by my mom's tree.
We didn't see Joe's family, they are all in New York right now, but we are going to celebrate with them soon!
Here are some Christmas day pictures!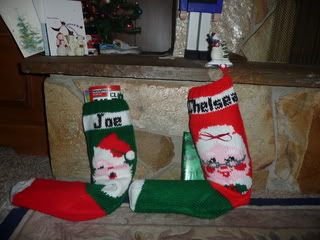 Stockings at my mom's house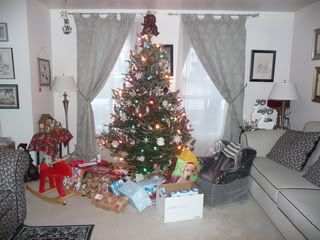 Me with baby James
Modeling my new pajamas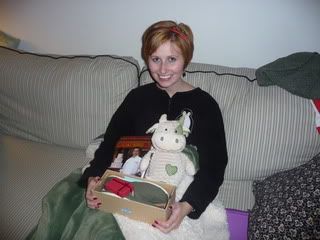 Some of my presents
Joe with some of his presents
Christmas dinner
Bo was, of course, invited to Grandma and Grandpa's house for Christmas. He thought this blanket was a present for him!