Yesterday, Joe and I went to our wedding shower hosted by my sil and moh, Jessica and my mom. We decided to turn the bridal shower into a couple's shower and I'm really glad we did. Joe got to come and he invited some friends from law school.
Jessica turned her house into a tea parlor, complete with fresh flower centerpieces. Everything was beautiful. We started out the party with games: a match the couples game, a lying game, and a newlyweds game. I know some people don't like "shower games," but I love them and had a lot of fun with each game.
After the games, it was time to eat. Jessica and my mom made all the tea sandwiches themselves. They were delicious! Ethan made his famous tea scones and there were several types of jam along with lemon curd and clotted cream. There were a few different types of tea, as well as lemonade. I drank wedding white tea. :)
After everyone was full of tea, sandwiches, scones, fruit tarts, and cannoli, it was time to open presents! I can't believe how generous and thoughtful all the gifts were. Some were from our registry and some were complete surprises. I love everything!
Thanks again to mom and Jessica for putting so much effort into a truly wonderful party!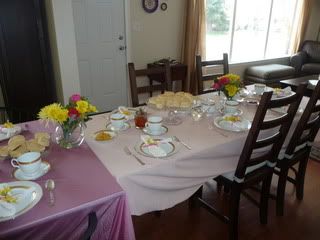 The table is all set
Yum!
Wow!
We loved all our gifts!