We are lucky that we know almost the exact day that our kitty Bomani was born.
Last May, Joe and I decided we were ready to adopt a kitty together. I had always wanted to "pick a kitten out of a box" and the best place to do that is in central Utah. We went to the farmhouse over Memorial Day weekend and I was determined that we were not leaving without a kitten. We drove around looking for "free kitten" signs, but couldn't find any (which is a really good thing!)
Finally, we stopped at the herb shop that frequently advertises free kittens. Apparently, they act as a sort of adoption agency since there really isn't one in town and post information for people who have kittens needing homes. Joe got a phone number and we got in touch with some people with kittens ready to find homes. Joe had said he wanted any color except plain grey. All these kittens happened to be plain grey. We went to pick one anyway.
Picking a kitten from a box is really hard. I wanted the smallest one that had subtle stripes on its legs. Joe wanted a bigger one with ear tufts. Finally, we put both kittens down and waited. The smallest/stripiest one lifted a paw to wash it and that was our new kitty!
We thought he was a girl at first because he was so small so we named him Ava (Avocado). It turned out he was a boy and the runt of the litter so we named him Bomani, Egyptian for warrior.
Today he turned one year old. He had to go to the vet for some tummy medicine, but then he got to play at grandma's and he got a fancy feast appetizer for a special treat.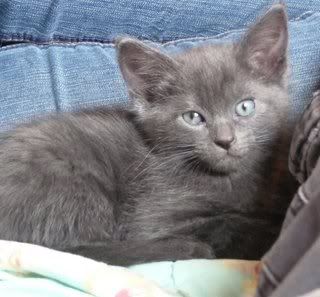 Bo at 5 weeks
He loved his tiger chair when he was a kitten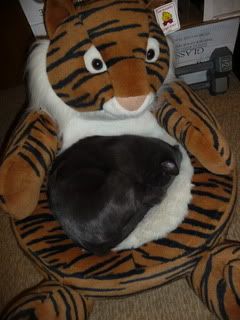 He STILL loves his tiger chair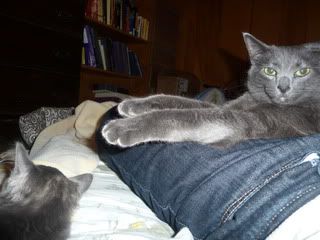 Grown up Bo buggin his baby sister