This year Christmas was extra special because Joe and I got to have two complete Christmas days. Joe's family came to visit Utah the week before Christmas and we had a lot of fun. Joe's sister, mom, and I had luxurious pedicures and I got a silver gel manicure on my fingernails. We had a tasty "Christmas Eve" dinner of Osso Buco and eggnog for dessert. The next morning, Joe's brother and his wife had arrived and Christmas 1 began. I wish I had remembered my camera that morning because the tree and the presents were so wonderful and I didn't get any pictures of present opening.
Joe and I got very spoiled. I got the Keurig coffee maker I had been wanting, some beautiful gloves, socks, a scarf, 2 cookbooks, and more. Joe got an electric razor, a new TV, and lots of books. There were also some really fun stocking stuffers.
We had breakfast of eggs, waffles, and orange juice. The rest of the day was spent playing games and lounging around watching football. Dinner was squash soup, lamb, salmon, sweet potatoes, asparagus. We drank champagne and opened a Hanukkah gift: Joe's mom had donated in all of our names to help kids get medical care. It was so thoughtful :) For dessert, Joe and I made eggnog cheesecake. It was a wonderful day.
Christmas Tree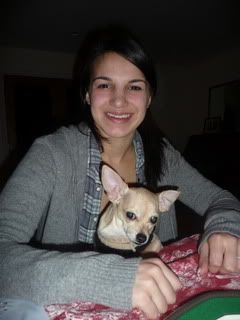 Joe's sister and her dog, Edward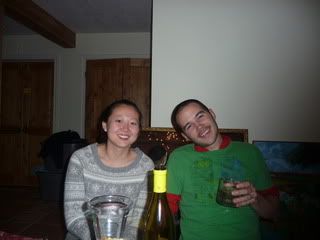 Joe's brother and sister-in-law
Eggnog Cheesecake
On Christmas Eve, Joe and I stuck with our tradition of a fancy fish dinner. We had Crab stuffed mushrooms, squash salad with spinach and pine nuts, pasta salad with crab and peas in a sour cream sauce, lobster pot pie, and cherry cobbler. We watched It's a Wonderful Life and each opened one gift at midnight. I love our Christmas Eve traditions.
This was so good!
Yummy dinner