I am 24 years old today, although we celebrated yesterday. There is a big blizzard on the way and the entire state of Utah is in a panic. It's kind of weird. Anyway, because of that, we decided to have my family birthday dinner last night. Everyone met at the Old Spaghetti Factory and had a yummy dinner. Then, we came back to our house for raspberry almond torte and presents! I got some really great things this year, :)
Because of that, today didn't really feel like my birthday, but I did get a wonderful surprise from my mother-in-law and sister-in-law. They sent me the most gorgeous bouquet! It was a total surprise!
Now, Joe and I are relaxing, waiting for the storm to hit. I have a mini Thanksgiving dinner cooking and we're going to start a fire soon and have some wine. I loved being 23, but 24 has had a really great start.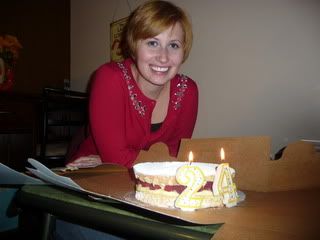 Me and my tasty dessert!
Beautiful flowers!