Months ago, Joe told me he had booked a mystery hotel for Saturday and Sunday nights after our wedding. I was SO excited to find out where it was. It turned out to be Castle Creek Inn, a castle themed inn that I had wanted to stay at for years.
We stayed in the garden room: a garden themed room with a private patio. It was decorated in purple and green (our wedding colors!) and had a jetted tub, a super comfy bed and a fireplace. We walked in to candles, rose petals, chocolate kisses, and sparkling cider.
We spent a lot of time watching movies (including Ever After, which I had to watch because we were staying in a castle!) and eating popcorn and cookies. On Sunday night, Joe got Chinese take out, which we ate on our patio with a bottle of wine.
Breakfast was an amazing meal of scrambled eggs, sausage, lemon pancakes, fruit, almond bread, and orange juice.
We are already planning to go back for our first anniversary. :)
Our garden themed room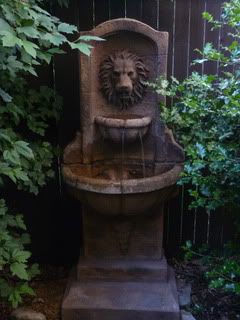 The fountain by our patio
The castle
I wish I had gotten some more pictures, but our camera battery died!