Originally, I wanted to go the whole DIY (do it yourself) bride route. Centerpieces, flowers, save the dates, invitations, favors, everything. I guess I got lucky though because I ended up being able to get a lot of this done for me for less than I could have done it myself. Some things ended up being sort of half and half (we printed the invitations, but all the paper for them came pre cut and ready to go).
I still wanted to do wedding projects though. I really wanted to feel connected to our wedding by creating things. And so the DIY box came into being: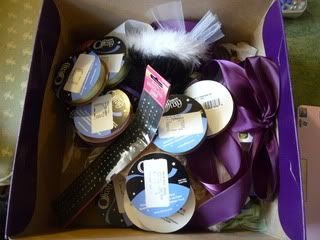 It's mostly full of various types of ribbon, but there are also stamps, green rhinestones and some other fun things. I love the colorful jumble of it all.