December is a pretty busy month for us. We have St. Nicholas Day tea, cookie day, Christmas Eve dinner, and two family Christmases.
One of my favorite things about December is picking out our Christmas tree. They don't have any lots where we live now so we drove 30 minutes to a tree lot in a bigger city. The Christmas tree has to be a real tree. Our cats also love the Christmas tree. They love to drink the water, sleep under the branches, and bat at the ornaments.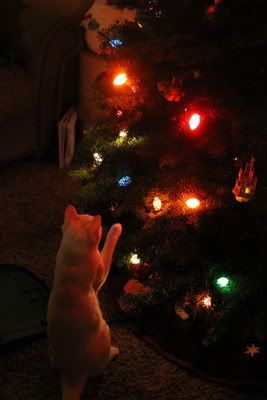 Mogget loves the ornaments
Bo with the stockings
For the last couple of years, Joe's family has come to Utah for an early Christmas. This year, we hosted it at our house and it was really fun. We had eggnog french toast for breakfast, opened presents, relaxed, had a turkey dinner, and played a fun game.
Orange glazed turkey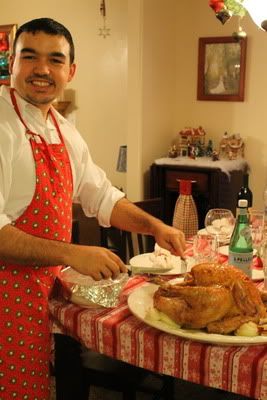 S family (minus Joe's mom who was taking the picture and his sister who couldn't make it this year)