Christmas morning started really early at our house. "Santa" had filled the stockings and the pets got theirs right away. They all got toys and treats, but the cats really enjoyed playing with the wrapping paper. As usual, Joe's stocking was filled with little games and mine had jewelry, baby bows, a game, and some other little things.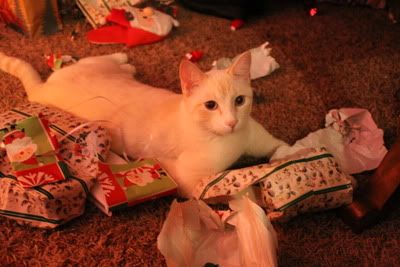 After stockings, we opened presents. I gave Joe the first season of Game of Thrones, a book about being a dad, and a baby blanket. He gave me a stuffed "smug pig" from Angry Birds, beautiful pearl earrings, and a baby sling.
Then we headed to my mom's house. She was upset because she thought the breakfast casserole got ruined. It turned out to be the yummiest ever and everyone ate a lot, along with fruit and pastries. Stockings came next and were full of tons of candy. The girls got pretty necklaces and the guys got fancy salts.
Presents were wonderful as always and I got a ton of surprises this year. My mom knows that I love foxes and found a super soft fox for me. I got the Kitchenaid ice cream maker that I had wanted and a very generous and unexpected gift certificate to Blue Nile jewelry. Joe got another guitar- a really nice electric one that he had been wanting.
Ethan, Jessica, James, and Juliet came over for more presents and ham dinner.
It was a perfect day!
Mom's tree