I wanted to post some pictures of our cute townhome. We aren't officially moving in until May or June (after graduation), but we are planning to spend a lot of time between now and then on little projects to get the house exactly how we want it.
The house is about an hourish away from where we are now and it will kind of change our "goals" a little because neither of us want to commute to SL. But, I think things are actually going to work out really well. Maybe even better! We are both really, really excited. :)
Super cute outside
Living room/dining room area
Love the big, bright windows
Kitchen (with a dishwasher!)
The guest bathroom. There is also a full master bath and a small bathroom on the main floor. I am so excited for the bathtubs!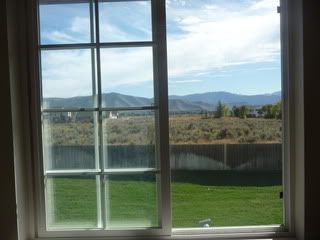 The view out of our office
We would like this room to be our future nursery
Back patio- the gate opens up to a big, grassy field shared by the community.
I don't have any good pictures of the master bedroom, but it's big and bright and has a huge double closet! There is also a laundry room and some good closets for coats and linens. We also have access to a club house, indoor pool, and hot tub!
It's pretty much all Joe and I talk about these days. Can't wait to move in!