Joe and I are on fall break at our school. We decided to spend some of it at our house and some of it in St. George. We headed up to our house on Friday afternoon and it was so pretty! All the leaves have changed. We bought a pumpkin for our stairs and some Halloween clings for the windows.
When we got there, we noticed that the furnace wasn't working, but it was too late to call anyone. It was really cold that night and we didn't want to leave so we made a little nest next to the fireplace and slept on the floor (we turned the fire off before we went to sleep). The next day, we spent a lot of time trying to fix the furnace before finally figuring out that we just needed to turn on the gas! Oops! The rest of the weekend was much more pleasant and we cooked a nice dinner of salmon, mushroom ravioli, green beans, and wine- the first real dinner in our house.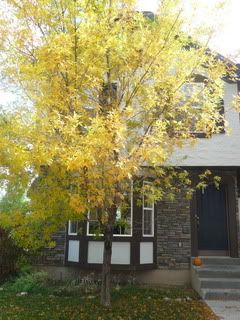 Can you see our little pumpkin?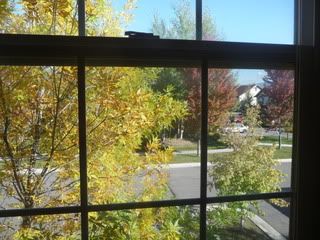 The leaves outside our bedroom- pretty reds and golds
Spiders and skulls
Dinner on our new dining room table!