So day one was technically Monday, but it was all travel so this post is about Tuesday. Our flights were fine and we got into France at about 7:30 am. We got on a train and grabbed a map and tried to figure out where our hotel was. That was not an easy task. We were dragging all our heavy luggage through Paris in the cold rain. We kept asking for directions, but we didn't speak good enough French and we couldn't find anyone who spoke English. I got yelled at by some lady because I accidentally got in her way with one of my bags.
Finally! We got to our hotel in the Latin district. The Hotel Des Grandes Ecoles. It was a wonderful hotel. Our room wasn't ready yet so they sat us down with coffee and tea. Everything in the hotel was lace and wallpaper. The hotel itself was pink and set in a lovely garden. It looked so pretty and French. And we got a bath tub!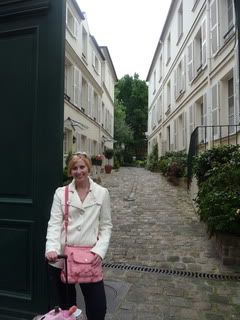 We rested for awhile and then went out to find lunch. We stopped at a bakery and I got a pizza and Joe got a really traditional baguette sandwich. The pizza was so good. The crust wasn't like anything I had had before. It was more like a flaky pastry with cheese and chicken on top.
Joe had read about a natural history museum in the middle of a garden so we went there to see it. On the way to the museum, however, we stumbled upon a zoo in the same park so decided to go there. It was a really wonderful little zoo. They had all sorts of interesting owls and other animals. These little foxes were my favorite.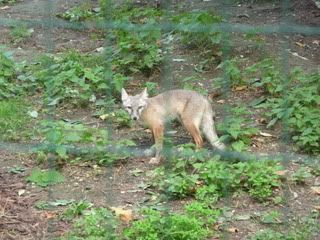 We spent so much time at the zoo that we never made it to the museum. We went back to our room and changed for dinner. We picked Le Chalet L'Olivier. We got a lovely bottle of Bordeaux wine and had a yummy three course dinner.