June 26th was our first wedding anniversary. I think our first year of marriage was truly happy. We started our mega weekend of fun on Friday night with a very tasty BBQ of honey sesame fish, Jamaican beans and rice, grilled pineapple, salad, and wine. The weather was perfect so we ate outside.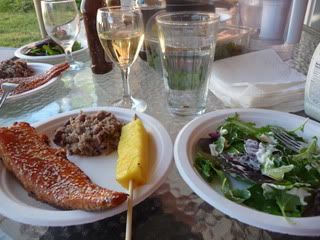 We spent Saturday swimming at the pool I used to go to when I was younger. It has 2 slides and a lot of room for actual swimming around. We brought sandwiches and chips for a picnic lunch and bought dessert at the pool (Joe had cookie ice cream sandwich, I had a Caribbean fruit bar).
Sunday was our actual anniversary. We started the day with brunch at Village Inn and then came home to pack for our stay at Castle Creek Inn. I have posted about Castle Creek Inn before (it is where we spent our wedding night). We decided to stay in Palace Royale and we walked in to rose petals, candles (not real), and Martinellis. We opted for the Martinellis over champagne because we had brought plenty of our own champagne.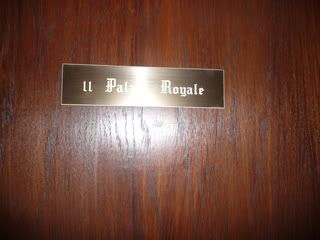 The bed was so high! Notice the little steps to help.
All the rooms have beautiful fireplaces
Love the big jetted tubs!
Fun lighting
We got Asian Star takeout for dinner and drank champagne and had our wedding cake for dessert. I followed strict wrapping instructions for the cake after the wedding and it actually tasted really good. Almost as good as it had a year ago!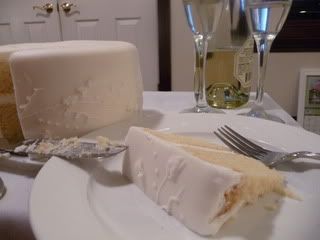 We also got a "back up" mini cake unless the original was gross. We had that one the next day and we are still eating it.
Granite Bakery does such a nice job
The food at Castle Creek in amazing! Like, really amazing. We got up early each morning to have breakfast in the dining room. Each day breakfast is different, but it always starts with a slice of delicious sweet bread and fruit. Then the rest of the food comes out. Monday, we had french bread french toast with some kind of delicious cream and fruit. We also had sausage and spiced potatoes. On Tuesday, they served eggs bendedict with bacon and cheesy hashbrowns. They also have pastries, popcorn, and soda available all the time.
We spent the weekend relaxing, watching movies, and eating. On Monday, I put my wedding dress on and we took pictures just for fun. That will be another post though, as this one has gotten very long.
One of the few pictures of us from the weekend. Happy Anniversary, Love!