I love to watch Design on a Dime on HGTV. It's a show where a design team has a $1000 budget and one room to redecorate. A couple of weekends ago, Joe and I decided to redecorate our bedroom...only our budget was $100 instead.
Here is our before room. Yes, it is a mess. We had already started cleaning it out and moving stuff when I decided to take a before picture:
My vanity was old and big and the drawers got broken when we moved here. But, I need a place to store my jewelry and things so most of our budget went to buying a new one from Amazon.
Me at my new vanity:
Our room is all light wood paneling that can't be painted over. It's nice and light, but kind of boring. I wanted to add some color to the room. We have some neat built in mini shelves that made the perfect "frames" for some fabric squares. Joe and I went to a fabric store and picked out some upholstery fabric and foam board and spent a good portion of a day cutting and gluing the squares. Then we put them in place. They are not attached to the wall and can be moved or changed if we ever wanted to.
In the middle of gluing:
Bo helping Joe glue:
Our last major project was to paint our little bedside table. It is old and the white paint was chipping off. We picked out a honey yellow and painted it. Here it is before being painted:
The finished room: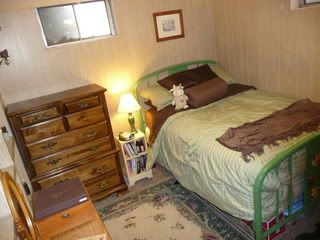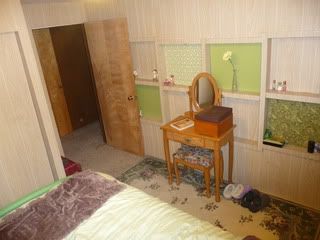 The picture above the bed is a print I got years ago in Victoria, Canada. We got a nice frame for it and hung it up. I would love to get some sheer curtains for the windows, but for now, the budget has been used up!