I was going through my New York pictures and realized that I have too many for just one post. So here is part 1 of (probably) 3 New York posts.
Joe and I took the red eye flight to New York. His mom picked us up at the airport and we decided to stop at Carlo's Bakery on the way to her house. Carlo's Bakery is where they film Cake Boss, one of my favorite shows, and I was very excited to see it in person!
When we got there, there was about a 30 min. line. Then we got a number and squeezed into the packed bakery to pick our treats. I knew I wanted a Lobster Tail, their signature pastry. We got a couple of those, a scone, and a doughnut and Joe's mom bought me an awesome shirt. :)
The Lobster Tails were completely delicious. They are a bit like a cream puff, but the pastry is a little harder and the filling is thicker.
Waiting in line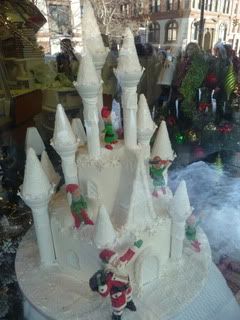 Christmas cake in the window
Very crowded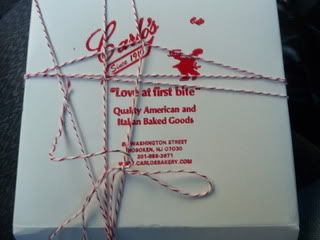 I loved how the boxes were tied with string
Lobster Tails!
And a little more- I got the Cake Boss book for Christmas. It is part biography and part recipes. I found a recipe in it for chocolate mousse for filling and frosting cakes. It looked good so I made a chocolate/chocolate mousse cake for dessert one night. I think it turned out really well!